English
Japan's Heart... "Wa"
Elegant carp swimming in the pond, leaves swaying in the wind,
and the scent and warmth of wood soothing people's souls.
Ryokusuitei values such a spirit of "Wa" (harmony).
We aim to provide hospitality unique to a small inn that cannot be experienced
in larger accommodations. In your room, please enjoy the comforting
feel of tatami mats beneath your bare feet.
We sincerely look forward to your visi
Guest rooms
Main building, 4 types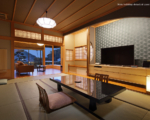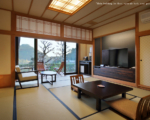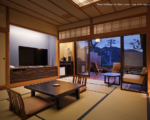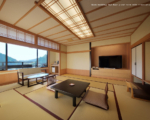 Separate villa, 5 type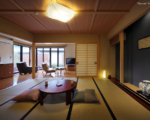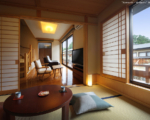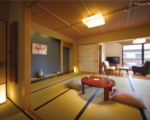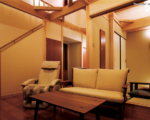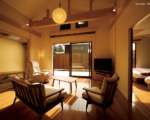 The guest rooms are available in both the main building and the separate villa called "Tsukinosato" (Moon Village). The main building features traditional Japanese-style corridors and staircases with tatami flooring. The separate villa "Tsukinosato" consists of six detached houses, each with an outdoor hot spring bath. There are flat and maisonette types available, each offering a distinct ambiance.
Amenities We provide a variety of amenities in each room, including face towels, bath towels, shower caps, toothbrushes,
cleansers, shampoo, conditioner, body soap, hair dryers, combs, hairbands, styling products, T-shaped razors,
shaving foam, tissues, cotton swabs, makeup removers, and clothing deodorizing sprays.
Guidance from the inn
Check-in: 15:00, Check-out: 11:00
Welcome treat upon arrival: Matcha (or summer cold tea) and Ryokusuitei's signature jade mochi.

Children's rates:
1 to 3 years old: Facility use 3,300 yen
4 to 8 years old: 50% of adult meal cost
9 to 12 years old: 70% of adult meal cost, bedding use 1,650 yen
Cancellation policy:
100% for same-day cancellations
50% for the day before
40% for 2 days before
30% for 3 days before
20% for 4 and 5 days before

We accept reservations for single guests on weekdays. Please contact us for more details.
If you have any dietary restrictions, please consult with us when making your reservation.
Please note that the dishes and ingredients may change depending on the season and catch,
and the utensils used may vary accordingly.
Dining: Both dinner and breakfast are served in private Japanese-style dining rooms at "Kura."
Please note that in-room dining is not available.
Yukata (casual summer kimono) and Samue (traditional Japanese work clothing) are provided in the rooms.
All rooms, public baths, and private open-air baths are equipped with amenities.
Bath towels and towels are also available in the public bath.
All rooms are equipped with air purifiers, humidifiers, dehumidifiers, large LCD TVs,
Blu-ray players, water servers, and coffee makers for your convenience.
We value your quiet time during your stay, and except for making beds and tidying up tea sets,
we do not enter your room. Additionally, we will handle futon lifting after your check-out.
For elderly or physically challenged guests: Upon request, we can provide chairs and simple beds in your room. We also have wheelchairs available for use within the facility (limited availability). The simple beds can be arranged before or after your meal according to your preference. We sincerely aim to provide you with a comfortable stay. (Please inform us of your needs when making your reservation.)
Hot spring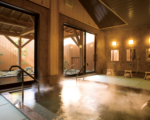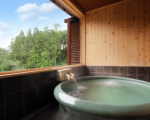 The colorless and transparent hot springs are said to be effective for beautiful skin,
fatigue recovery, and improving cold sensitivity.

There are two communal baths that switch between genders depending on the time.
Additionally, there is one private bath available.
We have prepared ample amenities in each bath,
so you can enter without bringing anything with you.
Our in-house hot spring source Name of the spring: Uchiurayama Onsen, Kuranoyu (Our in-house hot spring)
Water temperature: 17.5°C, pH: 8.63, Water discharge: 80L/min
Spring quality: Metakiesel acid, metaboric acid, sodium ions, hydrogen carbonate ions
Cuisine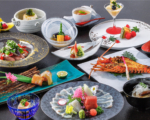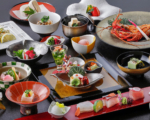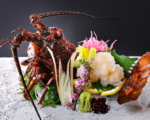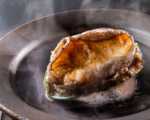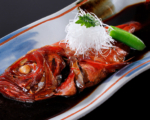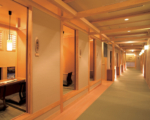 Seasonal changing coastal kaiseki cuisine The menu at Ryokusuitei changes with the seasons. We carefully select seasonal local fish,
shellfish, vegetables, and other ingredients, preparing them in a way that brings out their
natural deliciousness. Meals are served in private Japanese-style dining rooms at "Kura " (non-smoking).
We take into consideration your health and preferences, which we inquire about at the time of reservation.
Thank you for visiting the Ryokusuitei website.